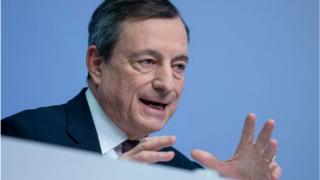 The European Central Bank has unveiled fresh stimulus measures to bolster the eurozone, including cutting a key interest rate.
The deposit facility rate, paid by banks on reserves parked at the ECB, was already negative, but has now been cut from minus 0.4% to minus 0.5%.
The ECB also said it was re-starting quantitative easing. It will buy €20bn of debt a month from 1 November.
The eurozone's main interest rate has remained unchanged at zero.
The moves come as the ECB combats an economic slowdown. The bank said its asset purchase programme would "run for as long as necessary", while interest rates would remain "at their present or lower levels" until eurozone inflation reached its target rate of 2%.
ECB chief Mario Draghi told a news conference that the inflation outlook had been further downgraded.
"Headline inflation is likely to decline before rising again towards the end of the year," he said.
Mr Draghi also announced that the ECB had lowered this year's and next year's GDP growth forecasts for the eurozone. It now expects growth of 1.1% this year and 1.2% in 2020.
He said the eurozone was suffering from the "prevailing weakness of international trade in an environment of prolonged global uncertainties".
The eurozone's biggest economy, Germany, is widely thought to be on the brink of recession.
'Serious policy easing'
Mr Draghi is due to make way for incoming ECB President Christine Lagarde on 1 November.
The ECB's main refinancing rate has been at zero since March 2016.
"At first glance, the ECB has not quite thrown the kitchen sink at the eurozone economy," said Ranko Berich, head of market analysis at Monex Europe.
"The QE package is shy of market expectations, which were €30bn a month. But the Bank is clearly back in the business of serious policy easing and more aggressive action could easily be taken in response to a worsening in conditions."
Original Source